By Isabela Ponce | GK
In 2016 a Shuar community in southern Ecuador was attacked, forcibly evicted and legally harassed. A mining company was set up in their territory. More than two years later, its 32 inhabitants have not been able to return to their land.
When Sandro Chinkim returned to his village, his village no longer existed.
Chinkim, a father in his thirties, had just left his community, Nankints, a day earlier to visit his in-laws, who live only 100 kilometers away.
"When I returned, there was no house, and all the houses were buried. There was no board," he said.
Thirty-two people lived in Nankints, a tiny enclave of Shuar Indians in the foothills of the Condor Mountain Range in Ecuador's southern Amazon. But when Chinkim returned there was no trace of them, nor of their houses. There were soldiers, policemen, and remains of wood and zinc, perhaps the only evidence that there used to be a community there. It was Aug. 13, 2016 
Forty-eight hours earlier, a picket line of policemen, brandishing a court order, had evicted the community. The land, they were told, was owned by the mining company Explorcobres S.A., and they were invading it. Unlike their son, Sandro Chinkim's parents were in Nankints.
"They were told they had two minutes to get their stuff and get out," said Chinkim. "Then they (authorities) knocked down the houses, buried them in a hole that they covered with dirt."
On that day, Aug. 11, 2016, the eight Nankints families took refuge in neighboring towns like San Carlos de Limón, Santiago de Pananza and Tsuntsuim. Nankints had ceased to exist. Their four small hectares became, by force of eviction, the mining camp La Esperanza.
Their people were never able to return to their homeland again.
Two-and-a-half years later, on a February morning in 2019, in what used to be Nankints, there are no longer any traces of wood and zinc. But there are seven small buildings with silver roofs, in the middle of tidy dirt roads, surrounded by a 2-meter-high metal fence reinforced with threatening barbed-wire spirals. Inside a cement sentry box, a security guard watches suspiciously as a 4-by-4 rattles and lifts dust as it slowly passes outside the Panantza-San Carlos project camp, where Explorcobres S.A. wants to start exploiting the rich mountain range, replete with coveted copper, for 25 years.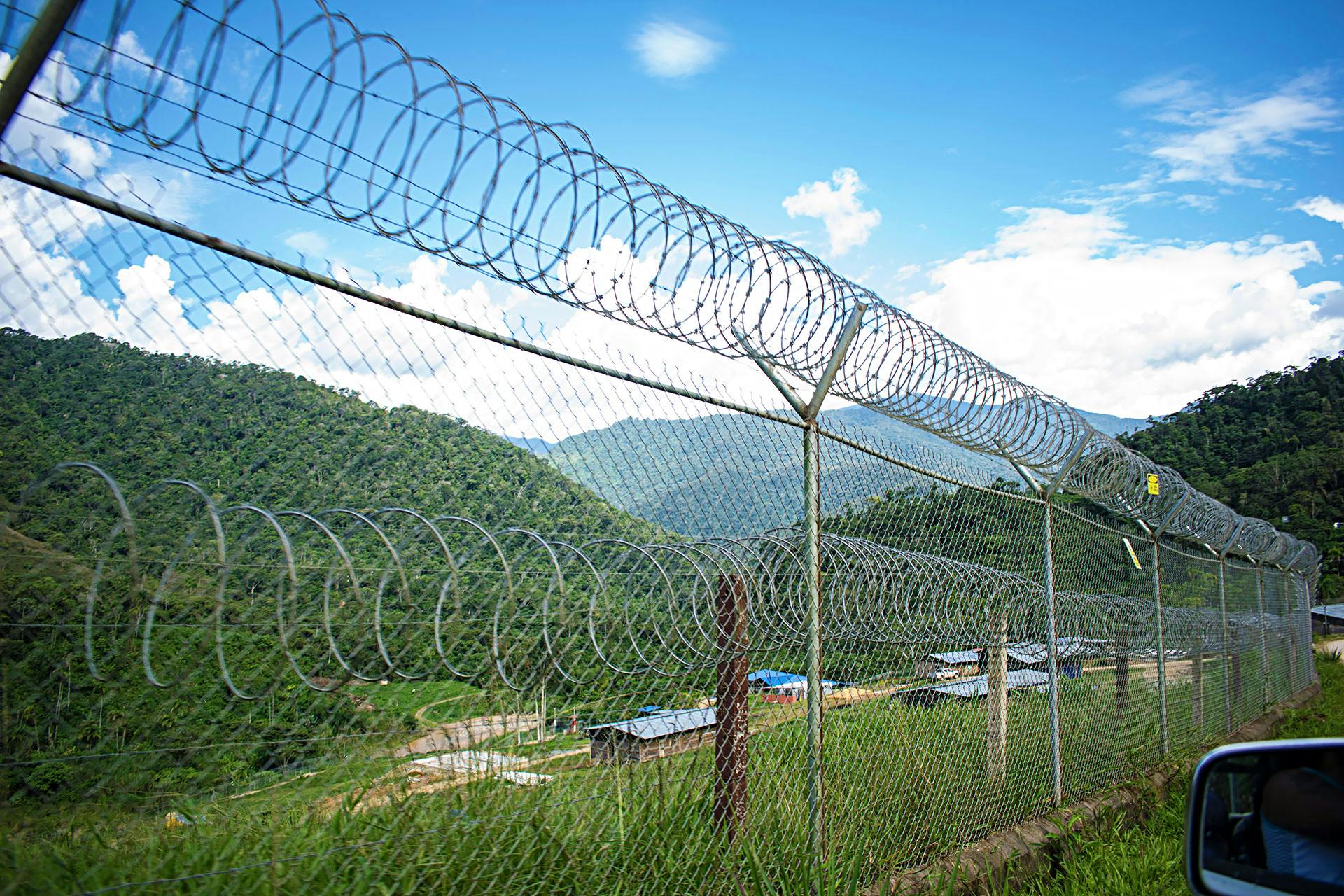 La Esperanza Camp is surrounded by a metal fence reinforced with barbed wire. Photograph by José María León
But the company can't do it because of the resistance by the Shuar people. The forced eviction that left Sandro Chinkim homeless and without a town, was only the beginning of a four-month journey started that day in August 2016. At that moment began the violent escalation of a conflict between a powerful mining company and a small indigenous community, which would result in death, persecution, judicial harassment and displacement.
Not far from Nankints in the southern Ecuadorian Amazon is Tsuntsuim, another Shuar indigenous community submerged in the middle of mountains covered by tall trees and full of copper. The region is the Cordillera del Condor, a small mountain range recognized as one of the most biodiverse areas in Latin America, and 1,100 meters above sea level.
The thick tree canopy shrouds the clear blue sky at midday, and early morning thick clouds hinder the view of mountain peaks, while at night there's a refreshing wind. It is silent at all time. The 27 families who live there occupy two-story wooden houses with zinc roofs. They are arranged as in a large rectangle, in the center of which is a multi-purpose cement court with two football arches and a volleyball net.