Danger at the border: Tikuna indigenous people defend their forest from drug trafficking
By Alexa Vélez Zuazo y Vanessa Romo | MONGABAY LATAM - Translated by Romina Castagnino and Sarah Engel
The Tikuna indigenous people have decided to guard their forests in an area of ​​Peru where illicit crops have declared war on conservation. Equipped with cell phones with GPS and maps, they face loggers and drug traffickers who have threaten them with death. The community wants the government to take action and help their neglected community.
Indigenous people from the Peruvian side of the Amazonian Trapeze, on the border with Colombia and Brazil, feel lost every time illicit crops are eradicated from their land. They know that starting over will take everything they have, and that it will feel like hell.
"It feels as if they are tearing your house apart and then suddenly it collapses on top of you," says Artemio from the indigenous community of Nueva Galilea, located in the eastern border of the Peruvian region of Loreto. He asks to omit his surname for fear of violent reprisals.
The last time the government got rid of illegal coca crops in that part of the country was in 2015. That year, Pablo García, a Tikuna indigenous leader in his community, chose not to be driven by despair but instead come to terms with the incident and start to uproot the plants.
For Pablo, that experience represented only one thing: a new beginning. Perhaps he is the only one, or one of a few people, who has dared to be an optimist along one of the most neglected borders of Peru. He not only decided to opt for a legal economy but chose, along with three of his friends, to become a forest monitor. Since then, equipped with a cell phone with GPS and a satellite map, he follows deforestation alerts whenever they appear on his screen.
The problem is that now he has to face the loggers and drug traffickers who invade his territory from the other side of the river bank. He knows that not only his economic situation is at stake, but also his life.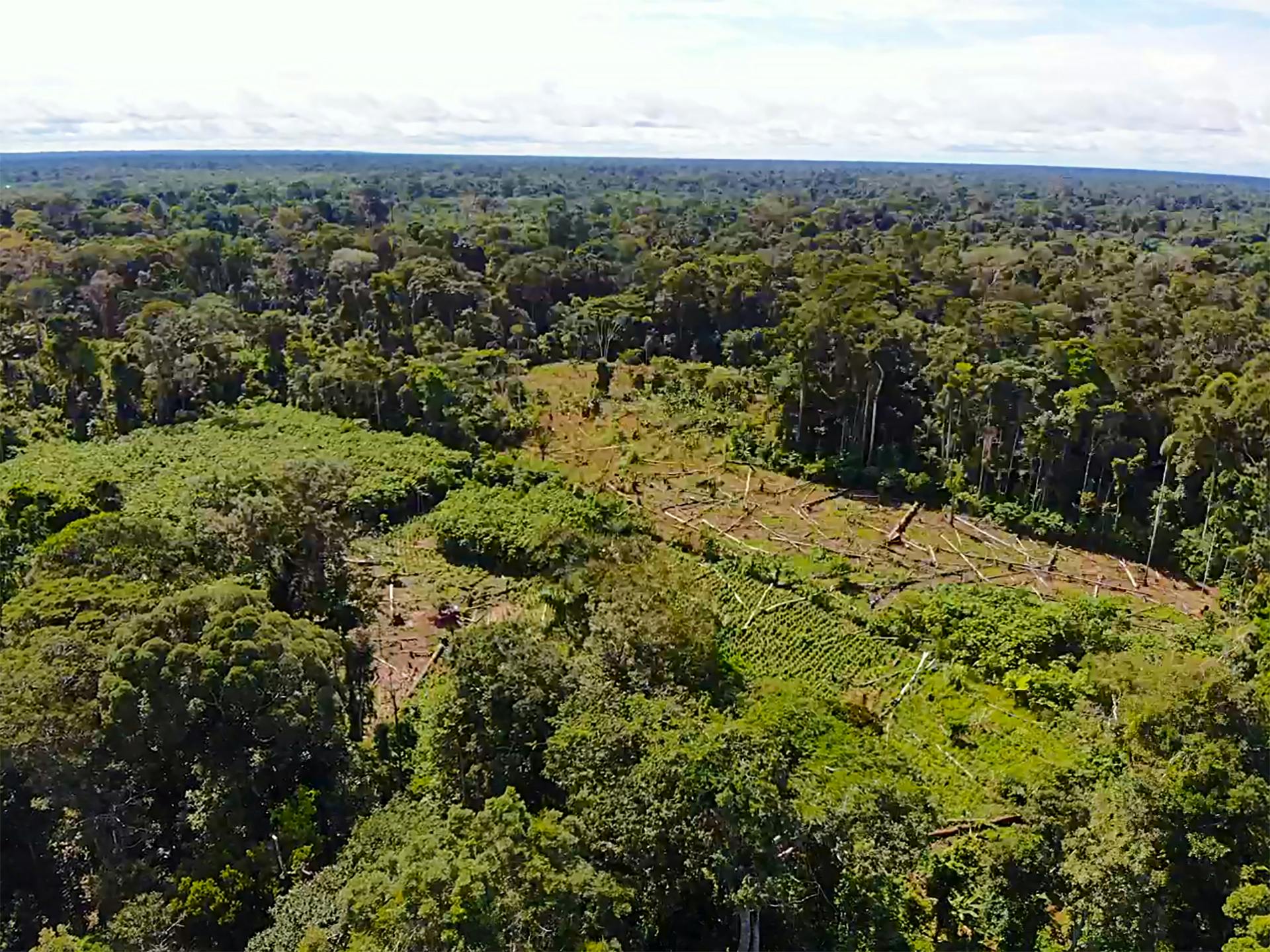 Pablo still remembers when two groups of drug traffickers turned the community Buen Jardín of Callarú into a battlefield. "I was the apu [the spiritual leader] of the community. It was during a meeting with a professor and other authorities when we heard boats coming towards us at about 8 a.m. They were shooting. One group got out of the boats and started running, armed, towards one of the communities' houses, the one right there, while the others fired." That happened in 2014, a year before the second coca eradication campaign in this Loreto community, in the province of Mariscal Ramón Castilla, in the Yavarí district. Pablo still fears that violence will return to his community.
The threats are like a shadow that follow this group of environmental protectors. They are seen as a hindrance for those who live off drug trafficking and sometimes they are also the barrier that keeps illicit crops from advancing. It happens in Buen Jardín and in other Tikuna communities like Nueva Galilea and Cushillococha. Despite this, the coca leaf plantations have recovered after the last intervention by the government; replanting is a reality. The question has changed to: What is at stake when you want to take care of the forest?